Shawn Mendes, Khalid & MSD Choir's "Youth" Performance Sends Strong Message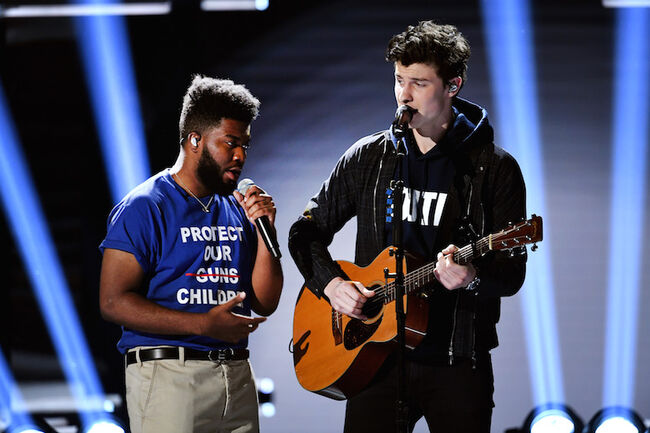 Shawn Mendes and Khalid gave a very special performance during this year's Billboard Music Awards. The two performed their new song, "Youth," and invited the Marjory Stoneman Douglas High School Show Choir to help the send a powerful message, right on the heels of the tragic shooting at Santa Fe High School on Friday that left 10 dead.
Standing side by side, Khalid and Shawn performed the emotional song, Khalid wearing a t-shirt with the words "Protect our children" on it (the word "guns" is crossed out). And Shawn, as well as the MSD choir, wore Shawn's official "Youth" merch, which proceeds for go to March For Our Lives.
"Youth" is from Shawn's upcoming new self-titled album, and is a powerful song with lyrics inspired by the horrific Manchester attack during an Ariana Grande concert last year, as well as the attack on London Bridge. Shawn told Britain's Daily Star newspaper about the song, "It's the most important song on the album. I was touring around Europe when the events of Manchester and London happened, it was very overwhelming." He added, "I wanted to write something about it but it had to be about the feeling for us as a generation when one of these things happens. So I wrote a song about our youth, a feeling that can't be taken away from us."
Introducing the powerful performance was Bebe Rexha, who explained that Shawn and Khalid's performance would be a tribute to the shooting in Santa Fe. She said:
"This past Friday, we experienced another tragedy, and this time at Santa Fe High School in Texas. Just a few weeks ago, many students from that very high school joined the protest against gun violence. And they're no different than tens of thousands of young adults across this nation who took a stand, and are raising their voices to say, 'Things must change.' They inspire me with their hope, with their compassion, and with their determination to make a difference and build a better world. Here to pay tribute are Shawn Mendes and Khalid joined by the show choir from the Marjory Stoneman Douglas High School in Parkland, Florida."
Following Shawn and Khalid's "Youth" performance, young people on Twitter shared their emotional reactions: